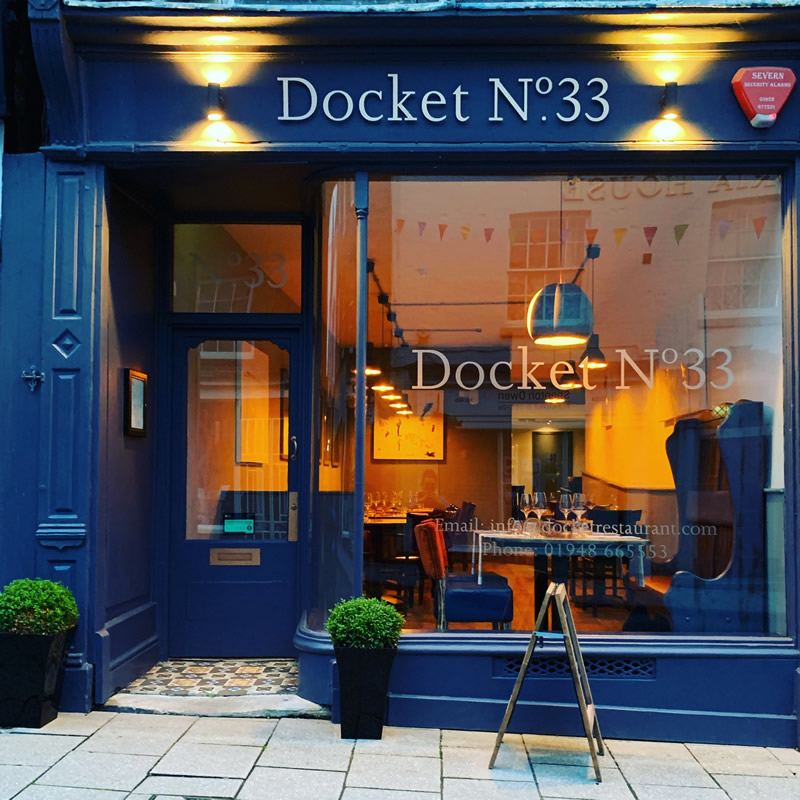 33 High St,
Whitchurch, SY13 1AZ
01948 665553
info@docketrestaurant.com

To book a table please complete the form below.
Lunch £55 | Dinner £65
We kindly ask to be informed of any allergies or dietary requirements at time of booking for any person within your reservation.
We wish to give our guests the best experience possible and if we are not informed in advance
we may not be able to adjust the menu accordingly.
We take online reservations for parties of 6 and under and require credit card details for all bookings.
Cards may be charged in the event of a cancellation or party reduction within 48 hours of the reservation time, or a 'no show'.
In these instances, a cancellation fee will be charged at £55 per person for lunch & £65 per person for dinner.
Parties of 7 people or more, should contact the restaurant directly on:
 info@docketrestaurant.com or 01948 665553.
COVID – 19 Safety
Our top priority remains the safety of our team and guests, and we are closely following the latest Government guidelines to ensure we make your time with us as safe as possible.
We have implemented all necessary procedures to comply with the guidelines, whilst trying to offer an uncompromised dining experience. We will be displaying a full list of our safer practices in the restaurant.
We want to emphasise just how important it is to us that you have the most enjoyable experience at Docket No.33, and whilst we have made some changes, we also need your help to make this happen....
• If you, or anyone in your party, are not feeling well or showing signs of Covid-19, please do not attend the restaurant.
• We kindly ask that you arrive at your selected reservation time.
• A sanitiser station will be setup near the door. Please sanitise your hands as you enter the restaurant.
• We're excited to see you, but we must refrain from shaking hands, kisses and cuddles!
• Please maintain distance around others within the restaurant and although very tempting, if you see some friends at another table, please don't just 'pull up a chair' to join them.
• When booking, please ensure you party consists of the most up to date guidelines for 'social bubbles'. We are not here to police this – please play your part!
• Your contact information may be used as part of the Government Track & Trace program.
We thank you in advance for making Docket No.33 the safest place it can be.
Should you have any questions, queries or concerns before arriving at the restaurant, please reach out to us
to discuss by calling 01948 665553 or emailing info@docketrestaurant.com.
LUNCH - SATURDAY
 12pm - 4pm
DINNER - THURSDAY, FRIDAY & SATURDAY
7:00pm – 11:00pm

If you have any questions about what we do or would like to book an event.